eSignal QLink is an add-on to Microsoft Office Excel that allows your eSignal or QCharts account to stream data into your Excel spreadsheets straight from the eSignal servers. We will be launching this product in a few weeks time, and thought we'd give the eSignal Central Forum community a chance to jump on this early.
To describe the product further, there are three types of data requests that can be made from QLink, all of which can be powerful additions to your market analysis.
Bar Data
Need to pull down the historical Open, High, Low, Close and Volume data for 5, 15 or 60-minute chart? You now have the ability to do so with eSignal QLink!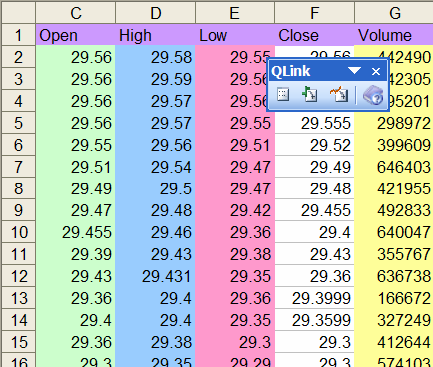 Perhaps you'll want to use the data for building your own graphical displays using Excel's built-in charting. There's a sample of doing just this included in the QLink download.
You can also use this chart data for building and tracking your own indicators. Excel has a powerful formula language that enables savvy technicians to create a variety of studies directly into an array of cells. Alternatively, one could use Visual Basic for Applications (VBA) to bring even more options to the table.
Snapshot
Over 45 data fields are available for importing into your spreadsheets. You'll have all your typical Quote Window columns available such as the Last price, the High of the day and the total Volume. There are even some additional indicators that may prove useful to your trade analysis:
% In Range
– Quickly determine where the current price is in relation to the High/Low Range
VWAP
– Volume Weighted Average Price; this is often used by institutions to determine if a company is trading at a discount or at a premium.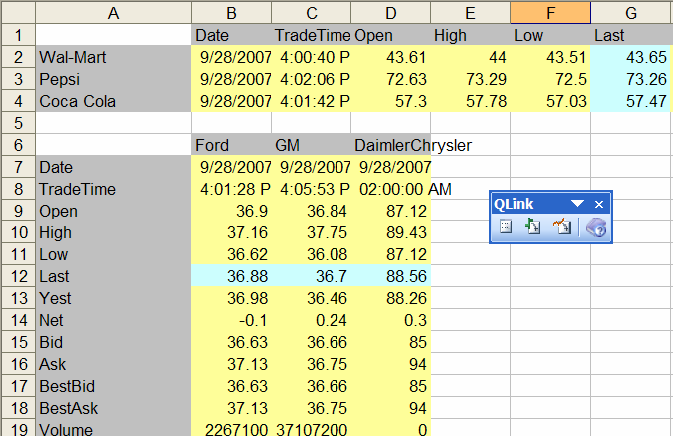 Time & Sales
View streaming trade by trade and quote by quote data flowing directly into your data sheets. A knowledgeable Excel/VBA user can take advantage of these data streams to look for possible scalping opportunities.
QLink Toolbar
New to QLink is special toolbar that appears within Excel to make it even easier to link up your spreadsheets to the available data.
Download
To download the QLink, please
click here
. Instructions for using QLink can be found in the Start Menu or within Excel on the QLink Toolbar.