Nous tenons a vous informer que NYSE Euronext nous a signal qu'il y aura un changement a venir dans la denomination des symboles Euronext Equities et Indices qui aura lieu le 3 Aout 2009.
Tous les symboles Euronext utiliseront un nouveau suffixe EEB a l'avenir qui remplacera l'ancien Suffixe (-AMS, -LIS, -PAR, -BRU).
Les services suivants seront affectes:
Euronext All Indices
(Amsterdam, Brussels, Lisbon and Paris)
Euronext Cash BBO 1
(Amsterdam, Brussels, Lisbon and Paris)
Par contre, il n'y aura aucun changement a Liffe Derivatives qui fait formellement partie de Euronext exchange. Nous vous signalons aussi que toute historique et intraday data seront remplacess par les nouveaux symboles. Veuillez bien mettre a jour vos charts, quote windows, formulas, tickers, DDE links.
Exemples :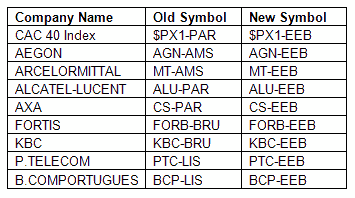 Veuillez bien vous referer a notre guide de symbole ou se trouve pratiquement toute la liste pour Euronext Equities et les indices.
http://www.dbc.com/SymbolLookup/Int...rading#European
Pour tout renseignement n'esitez pas nous contacter.
Cordialment,
Tristana
eSignal Support