Please note the QuoTrek Companion Streamer is being updated tomorrow evening (October 20, 2011). The existing version will be replaced with the new and enhanced QuoTrek companion streamer, which is available to all existing QuoTrek standalone users.
The updated streamer is available here:
http://streamer.quotrek.com/local/idm/index.jsp
The first time you log into the new QuoTrek companion streamer, your symbols from the old version will be copied over. This is a one-time copy.
After the initial login, if you make changes to the old QuoTrek companion streamer, the symbols will not automatically be copied. You should only make changes to the new QuoTrek companion streamer going forward.
The new and enhanced QuoTrek companion includes these features:
• New user interface
• Enhanced workspace management
• Hot List window
• Watch List with preset column headings and two views: Watch List and Summary
• Enhanced charting with symbol and study overlays
• New portfolio manager to help you monitor gains and losses
• New Shared Symbol List feature
Shared Symbol Lists
The new Shared Symbol List feature gives you the ability view and update your QuoTrek symbols within the QuoTrek companion streamer.
You will see your Shared Symbol Lists from the Watch List pull-down menu. The Watch List is the window you can use to create and access your 5 QuoTrek symbol lists.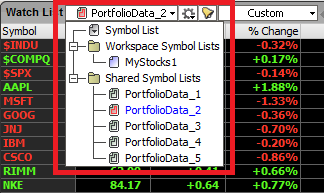 Click here
for more information on Shared Symbol Lists.
For information regarding the new QuoTrek companion streamer, please visit the
LiveCharts Support site
If you have any questions or need additional assistance, feel free to
contact us
.
Thank you,
Ray P.
eSignal Support